Last weekend was the UK Scrappers Cyber Crop, most years I clear my diary, join in all weekend and let the DH and kids fend for themeselves. This year I just had no free time to do this so had to just join in the pre-crop stuff that was not time restricted. So below is what I made with the Mystery Kit that I love getting. You don't know what you are buying, it's put together for the team and we all have the same papers and embellishments to play with. Here is what I made with it....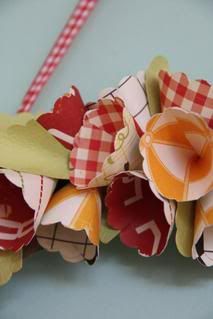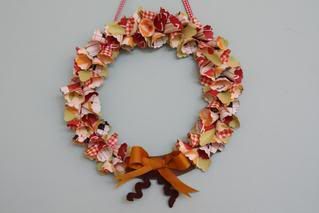 The Garland was made using a 2" scallop punch, each circle cut in half and made into a cone. I used the scallop square punch for the leaves and cut it in 4 and then trimmed it to make them look like leaves.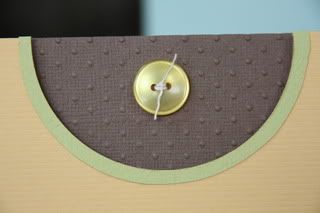 This is the LO that I made with the kit. I tried to be a bit more graphic and recessed the circles and dropped them down with foam pads. Photo was one taken last summer in Italy the day before the BIG accident. I came 3rd in the group for this submission, no prize for 3rd but delighted to have been near the top.
Below is my submission for the pre-crop LO challenge. The criteria was 4 colours and 2 techniques, so I made this LO of an old photo of my mum and her sister and I love it and delighted how it turned out. Used my Tim Holtz crackle glaze on the frame and the papers are from October Afternoon Thrift Shop collection that I got from the same shop I got the mystery kit from.
Craft Emporium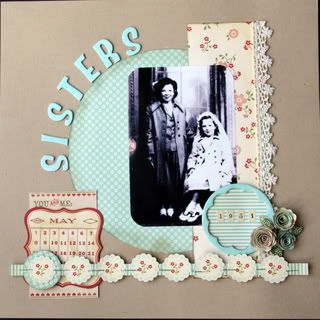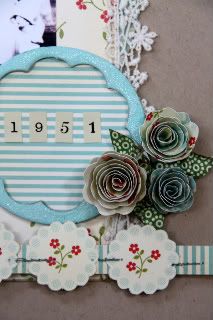 I cut the small scalloped circles from the PP and sewed them on the strip of PP and the handmade roses.
No prizes for the Pre-crop challange either, but I loved making the LO's.
Here
is a link to the classes if you want to have a look and it might be good if you are having a mental blank or your Mojo has gone for a walk....( you might have to be a member to look, but it's a fab site to be a member of!).
Have a great week - TTFN Michelle